Troop Policy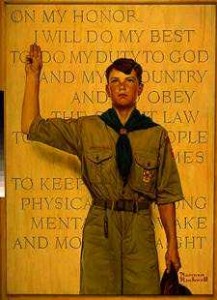 TROOP 3 POLICIES
Troop 3 is committed to providing:
a safe and fun environment for those involved in our Scouting program
our youth with an opportunity to acquire those skills and abilities attendant to advancement in rank
to experience the fun and adventure through outings and Summer Camp adventures, and
to develop leadership skills as individual scouts mature in the life of the troop
In order to make those commitments achievable, and to be in compliance with BSA guidelines, we have incorporated the following policies and rules:
UNIFORMS
Scouts are expected to be in proper uniform during Troop Meetings and at other times as directed by the Scoutmaster.
The Troop maintains a uniform bank to help those in need of uniforms. You can take an item if you bring in an item. There is a deposit required for those who take a uniform for the first time, $10 for a shirt and $10 for pants. Only one shirt or pair of pants may be gotten at one time. This is refundable with the return of the uniform. No new member may get a uniform until they have completed the requirements for Scout.
(This is the result of new members getting uniform, staying a short time and never returning to the Troop.)
TROOP SELLING CAMPAIGN
All Scouts that are members of Troop 3 must participate in our annual selling campaign to raise money to help run the Troop. This money goes toward reregistration and Troop expenses during the year. Participation in our selling campaign can materially assist scouts in earning the monies needed for attendance at Summer Camp. See the page on Fundraising for more details
PHYSICALS
BSA requires scouts to have completed official medical forms, (physicals included),  in order to participate in Summer Camp and other high adventure Scouting activities.
The physicals that we usually obtain for free for Summer Camp are to be used for this purpose.
If a Scout wants to use his physical for sports or other activities he must have attended Summer Camp.
OUTINGS:
Scouts who follow the Scout Motto and who are then well prepared by following the suggested packing list(s) for outings are most certainly going to have successful experiences on our hiking, camping, biking, and other outing adventures. Electronic devices are not permitted on these outings, and will be confiscated by the adult leaders if brought on the outing. Food monies are collected the week prior to the event from those Scouts who will be participating in the scheduled outing. Food monies collected are committed and are non-refundable.
GENERAL BEHAVIOR:
Scouts that adhere to the precepts of the Scout Law and the Scout Oath are sure to be on good ground in sharing mutual respect among one another and towards adults and leaders assisting in the Scout program.
HAZING AND INITIATIONS
There are no initiations or hazing allowed in Scouting. Physical or verbal abuse will not be tolerated.
HANDS OFF
No older Scout may wrestle or horse play with a younger Scout. Younger Scouts are not to be thought of as play things. No physical contact other than "normal" activities. Adults are not to interact with Scouts in physical horseplay.
(This is the result of some older Scouts tossing younger Scouts around as play things)
ILLEGAL SUBSTANCES
The use of tobacco, alcohol, or illegal drugs is strictly prohibited. If you are caught with any of these on a Scouting event, it is grounds for immediate dismissal from the Troop.